ROBOT-ASSISTED
PROCEDURES
Through specialized training and experience, our experts at Orthopaedic Specialists proudly offer precise and efficient joint replacement surgery with advanced robot-assisted technology. Serving as Iowa's first and most experienced outpatient and robotic joint replacement experts, our team has performed thousands of successful outpatient and robotic joint replacements.
Robot-assisted procedures at Orthopaedic Specialists are performed using the innovative Mako SmartRobotics™ system. This advanced technology allows our surgeons to perform joint replacement surgery through the most minimally invasive technique possible.
By employing Mako's CT-based planning software, our team can use 3-D images of the joint to create a highly customized surgical plan based on your unique anatomy. Your orthopaedic surgeon then uses this model to plan for your procedure to ensure the most predictable outcome.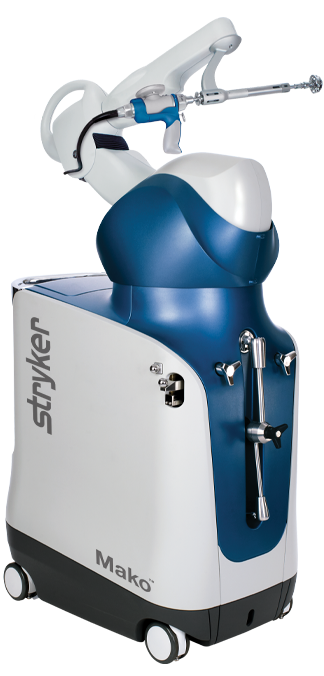 How Does Mako SmartRobotics Work?
When performing robot-assisted surgery, your orthopaedic surgeon will follow your CT images and personalized surgical plan as they begin to prepare the bone for the implant. The robotic arm only works when operated by your orthopaedic surgeon, who has received special training in the Mako system. The device is carefully guided by your surgeon throughout the procedure, with the help of AccuStop™ technology to ensure they stay precisely within the preplanned area.
The Mako AccuStop boundaries help your surgeon maintain accuracy throughout surgery, protecting your healthy bone and requiring less bone and tissue disruption overall. Your surgeon will manipulate the robot-assisted arm to position the implant into the joint. If needed, your surgeon can adjust your surgical plan during the operation to produce the best possible results.
Can Any Orthopaedic Surgeon Use SmartRobotics?
In order to use this technology, surgeons must undergo additional education, training, and certification prior to offering procedures with SmartRobotics.
Orthopaedic Specialists has the most experienced surgeons in the Quad Cities who are certified to use this technology, Dr. John Hoffman, Dr. Tuvi Mendel, and Dr. Robert Cagle.
What Procedures Are Available With SmartRobotics?
Currently patients can undergo a partial knee replacement, total knee replacement, or total hip replacement with SmartRobotics technology. At Orthopaedic Specialists, we proudly offer the full range of robot-assisted joint reconstruction surgeries through our exceptionally experienced robotic joint surgeons.
Experience Better—Request an Appointment
Each provider at Orthopaedic Specialists has undergone additional fellowship training in their respective areas of specialty in addition to obtaining board certification in surgery, proudly making Orthopaedic Specialists the Quad Cities' only group of all board-certified and fellowship-trained orthopaedic surgeons.
Additionally, our team of orthopaedic experts specializing in robotic joint procedures has undergone training specifically in robotic-assisted procedures and remain the most exceptionally experienced robotic joint surgeons in the region. During your appointment, our robotic joint replacement specialists will carefully assess and diagnose your condition and work with you to develop a comprehensive care plan focused on your wellness and betterment.
To schedule an appointment with one of our robotic joint surgeons, please call (563) 344-9292 today or request an appointment online.