What to Expect From Knee Replacement Surgery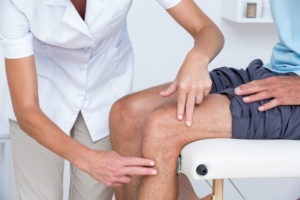 Knee replacement surgery is designed to remove damaged and diseased bone and tissue and replace it with an implant that allows a patient to move comfortably again. Knowing what to expect before, during, and after the operation can help make the experience more pleasant. Our orthopaedic surgeon, Dr. John Hoffman, will discuss the details of your treatment plan with you prior to the surgery, and we encourage you to ask any questions and voice any concerns you may have during this meeting.
Before your knee replacement surgery, you will have a few instructions to follow. You may have to cease taking certain medications, and if you're a smoker, you will need to stop using tobacco products for at least a month before the operation. Sometimes blood tests will need to be taken, usually about a week before the surgery. Your physician will tell you if this step is necessary. Additionally, you should not eat after midnight the day of your procedure.
Knee replacement surgery often can be performed at an outpatient ambulatory surgery center. This is possible due to a long-acting local anesthetic (the same type typically used by dentists for teeth). You should be able to return home the next day, and we will provide medication to manage your discomfort and to improve healing. Most patients report minimal pain, usually around a level one or two out of 10. Oral medication can help reduce this further.
The first week you will need to move around with the aid of a walker, and you can switch to a cane for the following few weeks. Once you can walk comfortably without a cane, usually two to four weeks after surgery, you should be able to drive again. Many patients can return to office work after about a month, individuals who spend long hours on their feet will likely need to wait up to eight weeks to return to full duty.
We want you to feel confident in your decision and comfortable in our hands, so please reach out to our medical team if you have any questions about what to expect from knee replacement surgery.