Should Younger Patients Have Knee Replacement Surgery?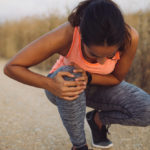 Patients who have severe knee arthritis in their 30s and 40s often develop this condition after suffering a meniscus or ACL tear followed by surgery. Even with treatment, degenerative changes can lead to significant pain and, particularly upsetting for younger individuals, reduced function. A partial knee replacement can be a tempting choice, but there are several options available to address this concern. Dr. John Hoffman, our board certified orthopaedic surgeon, explains the differences between two popular approaches: unicompartmental knee arthroplasty (UKA) and high tibial osteotomy (HTO).
A UKA is more popular and often better suited to an older patient. This procedure typically offers a shorter recovery and more pleasant healing experience compared to an HTO, which is part of what makes this procedure appealing for individuals of all ages. Furthermore, full weightbearing without support is possible after just two weeks post-op. However, this technique does require replacement of certain anatomical parts and the life of the implant is often shorter than that of the younger patient. As a result, people under a certain age will likely need another knee replacement surgery in the future, one that could be more complicated and risky as it requires removal of the first implant and placement of a new one. With older individuals, this is less likely to be an issue.
Another consideration that patients in their 30s and 40s should keep in mind is that an HTO often allows individuals to resume a wide range of activities, including high-impact sports that involve running and jumping. This type of recreation is advised against with a UKA or total knee arthroplasty (TKA), as it can lead to a shorter implant life or even implant failure. Advances in techniques and equipment have made UKA and TKA devices longer-lasting and more durable—many patients are able to return to walking, hiking, fishing, and skiing, for instance. Distance running, however, is still advised against, as well as more strenuous activities. Therefore, younger patients often benefit more from a HTO, even with a more demanding recovery.
Another procedure that can be used is the TVO – tibial valgus osteotomy. However, the TVO may not give as complete relief of symptoms as an arthroplasty (knee reconstruction). It typically helps with symptoms for 5-15 years.
Differences in lifestyle and biology may in fact favor a UKA or TKA for certain younger patients, and every treatment from our practice will be customized based on a broad array of factors. To learn more about these two operations, please talk to our skilled medical team.