Rapid Recovery Outpatient Total Joint Replacements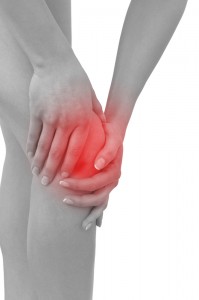 Many people battle knee pain for years. Joint pain, particularly the knees, can limit your life, but thanks to great strides in minimally invasive surgery, Quad City area patients are staying out of the hospital, recovering faster and more economically than before. "Patients usually come to me when they can't do the things they love" says fellowship-trained orthopaedic surgeon Dr. John Hoffman, Orthopaedic Specialists (OS). "As Baby Boomers age, knee replacement surgery, in particular, and total joint replacements, in general, are becoming common. Wear and tear is a part of the trend, trauma to the knee can cause problems, and even weight gain as people age puts stress on the knees or other joints such as hips or ankles," he says.
Rapid Recovery Total Joint Replacement: Better results, faster recovery, lower costs "The good news is that total joint replacement surgeries and outcomes have improved a great deal. I've been doing total joint procedures for more than 20 years, and in the last decade, improvements in surgical techniques, anesthesia, and joint technology means more patients return to their active lives much faster than before." What used to take 3-5 days to recover from in a hospital, is now being done in one day in Ambulatory Surgery Centers as well as in hospitals, thanks to new techniques and advancements in pain control and anesthesia. Dr. John Hoffman has been the driving force behind a new program, Rapid Recovery Total Joint Surgery, which uses a combination of medicines before, during and after surgery to minimize discomfort and pain and a minimally invasive surgical technique, both of which when combined, maximize a patient's ability to get up and get moving much faster following surgery.
What are the Advantages of Rapid Recovery Total Joint Surgery? As Dr. Hoffman recently presented to the Iowa Orthopaedic Society, his outcomes data show patients are able to navigate stairs and walk several hundred feet unassisted the evening of surgery, walk several hundred feet the and stairs the morning after surgery, with 80% of all his patients are able to comfortably return home the day after surgery. 80% of Dr. Mendel's knee replacement patients return to the comfort of their own home within 2 days of surgery. As a result of the unique and minimally invasive approach and medication protocol that Dr. Hoffman, Director for the Quad Cities Rapid Recovery Program at Unity Health, has developed, patients also benefit from:
Decreased pain and nausea: A combination of local anesthetics and non-IV narcotics minimize discomfort and allow for only oral pain medications to be used, which typically results in decreased nausea and vomiting post operatively.
Accelerated post-operative rehabilitation: Muscle paralyzing nerve blocks are avoided which allows for patients to be able to walk up and down stairs and walk several hundred feet evening of surgery. Most patients typically are fairly independent with just the use of a cane or walker the day after surgery.
Advanced pain management: No IV pain narcotics
Comprehensive Pre-operative education program
High volume practice (Dr. Hoffman performs over 600 total joints performed each year and Dr. Mendel performs close to 200 total joint procedures each year)
Recent medicare data was released and showed that surgeons that performed over 50 total hip procedures had much better outcomes and less infection and complication rates then surgeons who did not. On average, Dr. Hoffman performs close to 100 total hip procedures each year. For more information about this procedure and other procedures that Dr. Hoffman or Dr. Mendel performs, visit https://www.osquadcities.com/specialties/joint-replacement/ or call (563) 344-9292. Visit our youtube page to review video testimonials from some of our patients who have had great outcomes and experiences with this and other procedures at www.youtube.com/osquadcities.