Orthopaedic Specialists Announces First for the Quad-Cities Medical Community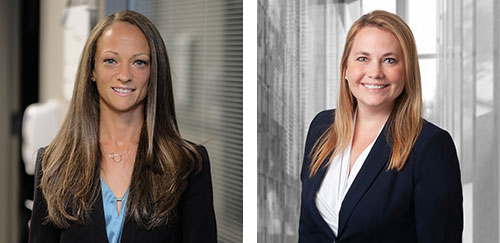 Dr. Kristyn Darmafall and Dr. Megan Crosmer will join practice as the only female, board-certified and fellowship-trained orthopaedic surgeons in the community.
DAVENPORT, IOWA (August 15th, 2019) – For years, Orthopaedic Specialists, located at 3385 Dexter Court in Davenport, Iowa, has served as the area's innovator for orthopaedic surgery. As the only Quad-Cities Area center comprised entirely of fellowship-trained orthopaedic professionals, Orthopaedic Specialists was the first to bring outpatient joint replacement and outpatient spine surgery to the area.
This fall, the center will prove itself as an innovator yet again by adding two board-certified and fellowship-trained female orthopaedic surgeons to its team – Dr. Kristyn Darmafall and Dr. Megan Crosmer.
Dr. Darmafall, who most recently served as an assistant professor of clinical orthopaedic surgery at Ohio State University, is fellowship trained in sports medicine. She completed her fellowship at the University of Wisconsin and completed her residency in orthopaedic surgery at the University of Minnesota. Darmafall earned her MD from Wayne State University and her bachelor's degree in chemistry from Albion College, both located in Michigan.
"The need for sports medicine-related surgery is growing at a fast rate," Brad Crowder, executive director of Orthopaedic Specialists, said. "Dr. Darmafall will help our center keep up with these growing needs through her expertise and experience in helping people regain mobility."
Dr. Crosmer, who most recently served as a hand and upper extremity orthopaedic surgeon at Jewett Orthopaedic Clinic, LLC in Florida, completed her fellowship in upper extremity, elbow, hand and wrist at the Indiana Hand to Shoulder Center in Indianapolis, Indiana. She completed her orthopaedic surgery residency at Duke University Hospital in Durham, North Carolina. Crosmer earned her MD from the University of Michigan Medical School in Ann Arbor and her bachelor's degree in biochemistry and molecular biology from the University of Florida.
"The Hand and Upper Extremity Center at Orthopaedic Specialists is world-renowned," Crowder said. "We've had patients travel thousands of miles to have their procedures done at our center. I'm confident that Dr. Crosmer will enhance our momentum in this area of expertise."
Both Darmafall and Crosmer are beginning to pre-book appointments now. They will officially join Orthopaedic Specialists on September 16th and October 2nd respectively. The two will perform outpatient procedures next door at Mississippi Valley Surgery Center.
"At MVSC, we are committed to continuously improving the quality of our services while providing a collaborative environment for healthcare providers, employees, patients and their families," Michael Patterson, President and CEO of MVSC, said. "I think Dr. Darmafall and Dr. Crosmer will do just that with their knowledge and expertise. Orthopaedic surgery is usually a male-dominated field, and our area has needed female orthopaedic surgeons to diversify options for the Quad-Cities community. We're pleased to see OS continuing to lead in their specialty by onboarding these two excellent surgeons."
About Orthopaedic Specialists
Orthopaedic Specialists provides a variety of services to effectively diagnose, treat and prevent injury throughout the body. Utilizing the latest advancements in orthopaedics to provide the most accurate and successful treatments, Orthopaedic Specialists offers customized, comprehensive plans for each patient to achieve the best possible outcome during treatment and recovery. For patient convenience, there are two Orthopaedic Specialists locations – Davenport and Clinton.
To find out more about Orthopaedic Specialists, visit OSQuadCities.com or Facebook/OSQuadCities.
About Mississippi Valley Surgery Center
Physicians from a variety of practice areas choose to do their outpatient procedures at Mississippi Valley Surgery Center. Because their team specializes in outpatient surgeries and procedures, staff at MVSC are experts in the latest, proven techniques that lead to better outcomes and faster recovery.
To learn more about the Mississippi Valley Surgery Center, visit www.mvhealth.net or visit the center's Facebook page at facebook.com/MississippiValleySurgeryCenter.